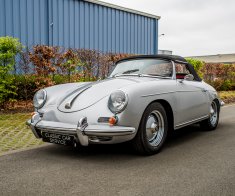 In model year 1960 the 356 A was replaced by a completely redesigned 356 B (T5). Its power range ran from 60 HP in the 356 B 1600 to 140 HP in the 356 B 2000 GS-GT Carrera 2. The main visual differences between the B series and the previous model are the front bumper including larger bumper rosettes, which were about ten centimetres higher and the headlights that were placed much higher. The horn grids next to the forward placed front flashers were flatter and had two chromed strips. The front cover handle was also wider at the bottom. The two lights for the license plate lighting were integrated into the higher rear bumper, while the reversing light was mounted under the bumper.
For model year 1962 (T6), the 356 B got a front cover that became much wider at the bottom and a fuel cap in the front fender. Two vertical air vents were integrated into the larger front cover. All 356 generations were also available in an open version (Cabriolet, Speedster or Roadster).
This very nice Porsche 356 B (T5) roadster by Drauz has been restored about 10 years ago. The car has hardly been driven since and is still in excellent condition. Chassis number #87358, engine number P*601453 160 type 616/1 T5 60 HP. Ready to be enjoyed by his new owner.
Year:

1960

Condition:

Restored

Drive:

left

Engine:

P*601453

Doors :

2 doors

Seats :

2

Transmission :

manual

Color :

Silver grey with red leather interior

Chassis number :

#87358