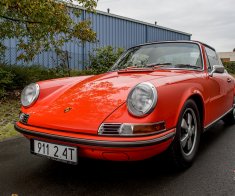 This Porsche 911 T Targa 2.4 is one of the 1523 produced 911 models with the so-called 'oelklappe'.
In 1972 a tremendous effort was made to improve the handling of the 911. Due to the 911's unusual engine placement (rear-mounted, with most of the vehicle's weight concentrated over the rear axle) early 911's were prone to oversteer when driven at the limit, and could easily spin in the hands of an inexperienced driver. In an attempt to remedy this, Porsche relocated the oil tank from its position behind the right rear wheel to the front of it. This had the effect of moving the weight of almost 9 quarts (8.5 L) of oil from outside the wheelbase to inside, improving weight distribution and thus, handling.
To facilitate filling of the oil tank, Porsche installed an oil filler door (much like the fuel filler door on the left front fender) on the right rear quarter panel. Unfortunately, this unique design was scrapped after only one year, some say because inattentive gas station attendants were putting gas in the oil tank. The oil tank was subsequently moved back to its original position for model year 1973, and remained there until it was moved back within the wheelbase for the 964 models.
1972 was also the first year the 5-speed gearbox was fitted to the 911 and the only year in which the cars with the external ölklappe were produced.
This example is number 1261, is extremely well restored. The car was completely stripped and repainted from bare metal. The correct type engine was completely rebuild as well, as all the mechanics and electricals. Some photographs of the restoration are available. The exterior colour of this model is orange with a black interior in leather and fabric. Engine 2.4 litre flat 6 130HP, 5-speed manual gearbox.
Year:

1972

Version :

Porsche 911 T Targa

Condition:

Restored

Drive:

left

Engine:

6522745

Horsepower:

130 hp

Doors :

2 doors

Seats :

2

Transmission :

manual

Color :

Orange with a black leather and fabric interior

Chassis number :

9112511261